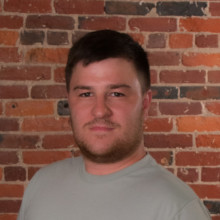 Brandon Chaloux
2020 40 Under 40 Honoree
Creative Geniuses
Building & Stage Manager
L/A Community Little Theatre
Former Deputy City Clerk & License Specialist
City of Auburn
While his former administrative work for the city of Auburn is vital to keeping records, issuing permits and licenses, and maintaining public records that date back to the 1700s, Chaloux has made quite the impact in his other role as Building & Stage Manager for LA Community Little Theatre.
A nominator said of his work, "Brandon has two extremely critical positions with CLT. First and foremost, he is the building manager, meaning he must oversee the workings of the 100-year-old building making sure that everything is always operating smoothly. It is a tremendous amount of work and requires a very committed individual as this is strictly a volunteer position. Brandon also trains all our stage managers, the people responsible for keeping all productions moving properly and on time. No person under 30 years of age has ever undertaken either of these positions before, much less both. It is a sign of Brandon's skill and maturity that he does so well as he does."
He speaks highly of the area with genuine love for what it offers.
"I was born here, educated here, graduated here and I still work here. The bigger question is, 'Why do I stay here?' The answer is the people. The people of L/A are passionate, driven and hard working. We all come from different cultures, backgrounds and industries but at the end of the day, we all just want to be happy and hopeful for the future. That describes L/A: Hope."