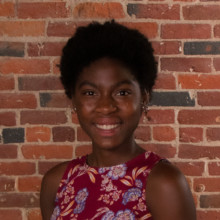 Myolene Gelinas
2020 40 Under 40 Honoree
Volunteers
Graduate
Lewiston High School
Cashier
Shaw's Supermarket
A former student herself, Myolene Gelinas, likes to help other students succeed.
"I support the Tree Street Youth Center because the people there help young people like me to get their high school GED and it helps them with homework after school," said Myolene. "I like to help out students at the Connors Elementary school."
As for her own achievements, Myolene was an honor student at Lewiston High School and the LRTC Culinary Arts School and has a part-time job at a local supermarket. She's actively involved in many school activities and has received numerous awards such as National Honor Society, National Technical Honor Society twice, and a Bates College Center Award at the Lewiston High School Night of Excellence.
Myolene was recently honored by the Auburn Exchange Club for her community Service and she also volunteers regularly at her local church in many capacities and assists with events at the Lewiston/Auburn Rotary.
Ten years from now, she would like to see herself working at her dream job, having her own place to live and helping others in need as much as possible.
She also believes that young people in LA don't have a lot of choices for places for them to hangout.
"We can overcome that challenge by building a few places for young people to hangout to do homework and more."