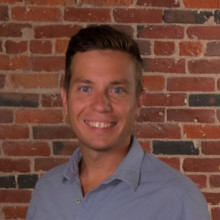 Kevin Mitchell
2020 40 Under 40 Honoree
Building LA
Marketing Strategist
Warp + Weft
Head Men's & Women's Cross Country Coach
Central Maine Community College
Just follow Kevin Mitchell's Facebook page for a while and you'll discover that he is the master of the selfie photo usually depicting himself in some type of outdoor activity.
"I like to run and participate in local running clubs and compete in races across the state. As a long-distance runner and running coach at Central Maine Community College, I absolutely love how the Lewiston Auburn Community has a strong number of running clubs and races to participate in locally," said Mitchell.
In his spare time, he enjoys spending time "on the pond" either boating, swimming, biking, hiking and fishing. In the winter, he enjoys skiing and snowmobiling and spending time at his winter home near Sugarloaf.
"I am passionate about helping people stay healthy and fit and I am a strong supporter of Moving ME Forward," adds Kevin. "With a vision of cultivating social change in the areas of health and fitness within our Maine communities, Moving ME Forward's mission is to provide mentors, resources, and programming that inspires health and fitness professionals to develop strategies to promote this social change."
As a nominator said about Kevin, "His energy and enthusiasm are contagious. He is a passionate and creative marketing professional who effortlessly connects people, gives generously of his time and talent to local organizations, and genuinely works to build LA every day through hard work and sheer will. Kevin's optimism makes our community better and his commitment to LA makes our community stronger."