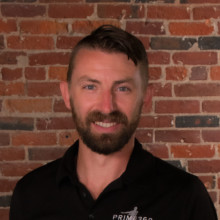 BJ Grondin
2020 40 Under 40 Honoree
Health & Wellness
Owner & Performance Coach
PRIME360
BJ Grondin is making people healthier, one person at a time.
"I own and run PRIME360 in Auburn and Portland. On a typical day, I will work to relieve client's pain, enhance their performance, and help them lead more fulfilling lives. This can come from a weight loss journey, health improvement, or a chance at reaching their potential in their respective sports. I also manage a small staff and work to enhance the employees' capabilities, knowledge, and performance daily."
He got started in the exercise science field in college because of his passion for sport performance and injury prevention. He then had a chance to work with the track team at the University of Maine and was exposed to National Football League player training at the same time.
"After college I was fortunate enough to spend a year with the University of Texas Men's Basketball Performance Coaching staff which taught me more than I could have hoped for in the field of applied functional science."
"I decided to open and run a business to help change the lives of those in our community. Everyone deserves to reach their best self."
"I love sports and movement, so in my free time I enjoy going for walks with my family and playing sports or games like basketball, spike ball, and lawn games, said BJ. "I am also extremely passionate about conserving the planet. Clean air, land, and oceans are vital to the effort."