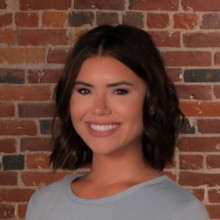 Kirsty Beauchesne
2020 40 Under 40 Honoree
Economic Development
Marketing Consultant
WGME, CBS13 / WPFO, FOX23
Kirsty Beauchesne started young as a media mogul.
"I had a personal connection to fellow Lewiston-native, Susan Walther, now my general manager, who saw potential in me from an early age. I relentlessly pursued work at Sinclair starting in my sophomore year in high school. I finally secured an interview once I was approaching my senior year in college and then got hired after graduation."
As a marketing consultant with the media outlet, Beauchesne works with local businesses developing innovative, integrated marketing campaigns which elevate brands, enhance recruitment, educate consumers and drive potential customers.
"The most rewarding parts of my career have been helping local businesses grow and give back to their communities, providing the first-hand experiences developing marketing strategy for countless industries in both for-profit and nonprofit sectors, and in connecting with inspired thought leaders in our state, especially the L/A region."
Having grown up in L/A, gone to university in Rhode Island and now working in southern Maine, Beauchesne has a great appreciation for the community where she was raised.
"At an incredibly young age I had the opportunity to become acclimated with peers from a variety of cultures and socioeconomic backgrounds. I was never sheltered from the apparent differences through our community, but I was always encouraged to ask questions. I believe those who decide to raise families, start businesses and grow roots in L/A today, do so because our deep heritage has been paired with open and transparent dialogue. We are a very strong melting pot tucked away in our state. How could anyone not enjoy that?"