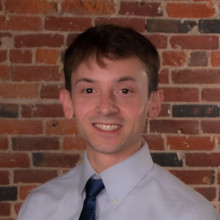 Luke Jensen
2020 40 Under 40 Honoree
Local Government & Civic Leaders
Educational Technician
Auburn School Department
Lewiston City Councilor
City of Lewiston
Luke Jensen's world opened up when he discovered teaching.
"Years ago, it felt like my life had no meaning. I quit my job, spent years trying, unsuccessfully, to start a business with no money, and began substitute teaching to pay the bills. I immediately loved working with students, and spent the next few years rotating between jobs as a substitute and an education technician. After a very meaningful school year in June 2019 in which I spent nineteen weeks between just two classes, I realized I wanted to become a teacher, and am currently in the process of getting certification. Some of the greatest moments in my life have been helping struggling students learn something that they didn't think they could."
He recently entered the world of politics and now serves on Lewiston's City Council representing Ward Five (Tree Streets neighborhood up to Farwell School neighborhood). In this role, he represents the Council on the Auburn-Lewiston Municipal Airport Board of Directors, the Lewiston Recycling and Waste Reduction Committee, and as a liaison for the Lewiston Youth Advisory Council. He also serves on the LHS Expansion and Improvements Committee, which has launched the high school expansion effort passed by voters in 2019.
Luke believes that poverty is the biggest challenge being faced in LA.
"The outside image of our community does not match the reality and is a barrier to investment. We need to determine our identity as a community (what kind of community we are, not just a general positive message) and work on building the relationships needed to spur local growth," said Luke, adding that LA needs passenger rail service to continue its growth and development.