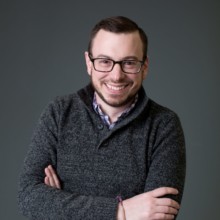 Luke Livingston
2016 40 Under 40 Honoree
Entrepreneurs
Founder
Baxter Brewing Company
Luke has maintained a passion for craft beer and brewing since his twenty-first birthday, when he received his first homebrewing kit as a gift. Shortly after graduating college, he created a beer blog and learned about "west coast styles" of beer and marketing as well as the then-revolutionary idea of canning craft beer. After losing his mother to breast cancer in January, 2009, Luke quit his day job to write a business plan for his own canned craft brewery. As founder and CEO of Baxter Brewing Company, he is most heavily involved in sales and marketing and is particularly focused on building and maintaining the brewery's chain sales channel. His favorite part of his job is having the privilege every day of getting to make and sell beer for a living. Also, he says, "it's always great to see your friends at the bar!"
A 2003 graduate of Edward Little High School in Auburn, Luke traveled away for college and ultimately settled in South Portland with his wife and their two-year-old son, Everett. When it came to a location for the brewery, however, he says there was no other option than L/A. Having grown up locally, most of his business connections were here and he was excited at the idea of breathing some life back into the mills he watched sit vacant for many years before. There was also a competitive advantage to doing business in L/A, as for some time Baxter Brewing Company was the only production brewery in the area.
Luke's favorite thing about L/A is its small town vibe. He enjoys enormous support from the L/A community and especially the municipality itself, which he says has always far exceeded the support he could get in a larger, more crowded market. He loves his "mill-mates," Davinci's and Fishbones, as well as the restaurants on Lisbon Street like Forage, Marche and Orchid. Though most of his time off work is spent chasing his two-year-old around, when he can Luke likes to play disc sports. He also juggles, is a huge baseball fan, and spends as much time as possible outside exploring Maine.
The two causes Luke is most passionate about relate to animals and the environment. He gives back to his community through his involvement with the Androscoggin Hospice House and the Androscoggin Humane Society.
In the future, Luke plans to still be living and working in Maine, making beer and continuing to learn new things in his business.