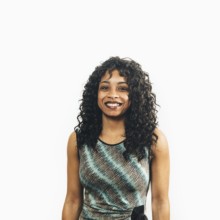 Megan Guynes
2017 40 Under 40 Honoree
Local Heroes
Program Director
Tree Street Youth
On any given day, you'll find Megan Guynes making a difference in the lives of area youth.
"I was a year out of college when I began my journey with Tree Street. I was hired as the Volunteer Coordinator and later became the Enrichment Coordinator. Now I am the Program Director for our afterschool and summer program, serving about 120 to 150 kids from kindergarten to grade 12," said Guynes. "I often describe Tree Street as a place where you fall in love by chance but you stay in love by choice. The energy, diversity, and sincerity of the youth and all those involved have an impact on you. I love that it is an environment where everyone is constantly learning, growing, and rising to greatness.
In her free time outside of work, you'll find Guynes singing, hanging out with friends, being silly, or going to church where she sings in the choir and is a Praise and Worship Youth Leader.
"I spend my Monday nights at Gospelaires, the Bates Gospel choir, a group I have been involved with since attending Bates," said Guynes. "You'll also find me at the theater as an actress or an enthusiastic audience member. My most recent role was that of Tituba in The Crucible, performed at Community Little Theater. Outside of this, I love exploring the world. You may spot me in Boston, Portland, or on other random adventures like driving back to California for a home visit."