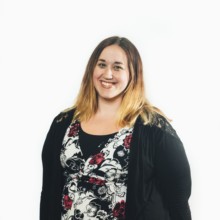 Megan Skilling
2017 40 Under 40 Honoree
Health & Wellness
Zumba Instructor
YMCA of Auburn-Lewiston
Megan Skilling is not your typical fitness instructor. She's traveled a journey that many can identify with.
"I attended my first Zumba® class on April 25th, 2011. At 330 pounds, just even standing for an hour was hard, never mind dancing. But I kept going back," said Skilling. "You see the difference for me was finding a family. Going to class gave me friends, something I lacked, and these friends kept me coming back. We would laugh and have fun. The working out? Well, that was just a bonus."
A year after that first visit to the Zumba class, she became an instructor. After losing 40% of her original body weight, Skilling had surgery in 2013 to remove extra skin that was painful when working out.
"I haven't done it on my own. I had my family, friends and God all backing me up. I still have more weight that I would like to lose but I tell myself that healthy knows NO size," reflects Skilling.
"In my class, I encourage letting loose and smiling and being yourself. I'm not perfect. I don't want to be. I live my life with purpose, it's why I teach. I love dancing, moving, and losing myself in the music. I don't care if you're young, old, overweight, underweight, use weights, in a wheelchair, need a chair or have hair issues. You are part of my class and I won't stop until I teach you how to move to the music and feel free."