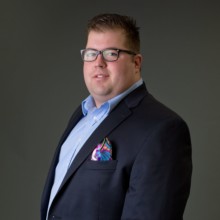 Nicholas Benoit
2016 40 Under 40 Honoree
Entrepreneurs
Owner
Benoits Bakery, Benoit Orchard and Pretentious Pie Co.
Owner/Founder
American Pie Guys
Members of the Benoit family have proudly owned and operated businesses in the L/A area since the opening of US Steam Laundry in the 1930s. For Nick, becoming an entrepreneur in L/A was in his blood. Returning to Lewiston after prep school, he had no idea what he wanted to do. He tested the waters with various different jobs but couldn't find work that excited him. His true career began when he opened a small farm stand in Lisbon that soon transformed into a full baking facility boasting up to twenty employees.
Benoit's Farm Stand came about by happenstance—not yet knowing what he would do with the space, Nick formed a habit of leaving apples from his family's orchard outside the building for convenient pick-up by local markets and farm stands. When passers-by began taking the apples and leaving money in their place, he was inspired to open his own stand and quickly got to work. After just three years, he opened Benoit's Bakery and Wine Cellar in the same location. Today, as the owner and operator of multiple businesses in L/A, Nick is always facing new challenges and views himself primarily as a creator of solutions.
Naturally, one of Nick's favorite things about the L/A area is its plethora of restaurants. He also enjoys access to local sporting events and loves interacting with the "amazing" people of L/A. It is important to Nick to patronize L/A area restaurants and businesses to return the support he receives for his own. In his free time, he likes playing golf and being out on the water whenever possible. He also maintains a hobby collecting antique automobiles, but finds his greatest pleasure derives from helping others in the L/A community to thrive and live their dreams. A big fan of supporting our youth, some of the causes Nick is most passionate about include the Special Olympics, the Ronald McDonald House and Barbara Bush Children's Hospital. He does a lot of mentoring and working with children in local schools. Having been given many chances to succeed in his own life, Nick feels strongly about providing L/A youth with opportunities to show the world what they can do.
Nick is a firm believer that tomorrow is never promised to anyone and focuses on living for today. He sets personal goals for himself in both the long and short-term, but ultimately just wants to be happy in his life and in his work and contributing to the growing success of L/A.