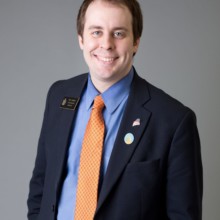 Eric Brakey
2016 40 Under 40 Honoree
Local Government & Civic Leaders
Senator
Maine State Senate
As a State Senator, Eric is an impassioned servant of Maine's people. Believing that our citizens prosper most when they are free to make their own life choices, too often he saw "big government" treating adults like children by encouraging dependency, strangling innovation and dictating personal decisions. In 2014, Eric decided to run for office to advocate for personal freedom and responsibility. In his role as a Maine senator, he is responsible for fostering an environment where companies can grow and thrive. As chairman of the Health and Human Services Committee, he oversees over $3 billion in funding each year. Eric is grateful for the opportunity to lead growing efforts for welfare reform, saving money for Maine workers while still providing services for those who need it most. His favorite things about being a Maine senator are using his own perspective to solve the statewide challenges and passing major reform to decrease the role of the government in the lives of individuals.
Born and raised in New Gloucester, Eric worked for several years as a professional actor in New York City. He eventually returned home to Maine to be closer to his relatives and to work in the family business. Wanting to live in an area with a tight-knit community that offered the accessibility of a larger city, he chose to settle in Auburn. When thinking about what he most enjoys about the L/A area, Eric feels that the little things make the biggest difference. Some examples of the "little things" he loves about L/A include: seeing citizens work to transform a giant snowbank into a sled hill for local children, enjoying a first-rate musical production at the volunteer-driven Community Little Theater, and witnessing community members picking up litter along the side of the road in efforts to beautify our neighborhoods. He can often be found enjoying breakfast at Rolly's Diner, enjoying conversation with a friendly face.
In the past, Eric spent a lot of his free time performing through Community Little Theatre, playing various roles including Felix Unger from "The Odd Couple," Mortimer Brewster in "Arsenic and Old Lace" and several small parts in a production of "Monty Python's Spamalot." His work as a senator prevents him from having the time to participate on stage, so he remains active with the Theatre as a member of its board of directors. In addition to the Theatre, he is passionate about "Big Brothers, Big Sisters" an organization that enables local adults to make a positive impact on youth facing adversity in Maine through community and school-based mentoring programs. As a "Big Brother," Eric most enjoys outdoor activities with his "Little Brother" like hiking Mount Appetite and walking the L/A Riverwalk. The two also enjoy the occasional movie at Flagship Cinemas in Auburn.
Eric hopes to continue making his efforts, whether through the public or private sector, to strengthen the liberties of Maine's people and empower them to create their own opportunities to live, work and play.