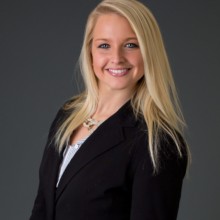 Emily Butterfield
2016 40 Under 40 Honoree
Emerging Leaders
Student Navigator
Central Maine Community College
Emily joined the L/A community as a freshman living on campus at Central Maine Community College in 2008. Through her studies and extracurricular activities Emily became a strong leader, a key trait for her present occupation as Student Navigator for the "Maine is IT!" grant at CMCC. As Student Navigator, Emily focuses on recruitment and success by assisting with college and career fairs, providing academic support, and helping students plan their futures beyond the classroom.
Apart from her career at CMCC, Emily is a proud volunteer firefighter for the Town of Turner, Maine. She attributes her interest in volunteer firefighting to the large number of firefighters in her family. For Emily, fire service is about honor, integrity, family, duty, courage, leadership, and strength. She hopes to continue volunteering and finding more ways to serve and support her community in the future. Currently, Emily gives back to her community by supporting local charity events like "Stuff the Bus" and the "Rancourt 5k Run," teaching fire prevention and awareness in our schools, and volunteering at her church, Pathway Vineyard in Lewiston, among others. One day, you may even find Emily representing the City of Auburn in the world of local politics.
Emily presently resides in Auburn with her fiancé, Lance Robinson. The two thoroughly enjoy outdoor activities, particularly on the Androscoggin River, which Emily affectionately calls "Androscoggin's hidden secret." She loves swimming, kayaking and boating on the River and hopes someday to see new activities like white water rafting, as well as shops, introduced to the area. When she isn't being active with her fiancé outdoors or in the gym, Emily loves spending time with her family and with her dogs. For fun, she likes to visit some of her favorite L/A restaurants, which include Firehouse Grille, Mac's Grill, DaVinci's, and Jasmine Café. In the wintertime, she can be found snowboarding at Lost Valley, snowshoeing, snowmobiling or ice fishing.
A lifelong learner, Emily is currently pursuing her Master's Degree in Leadership at the University of Southern Maine L/A, an accolade that she hopes will prepare her to take on new and challenging leadership roles in the future. In ten years, Emily sees herself married and raising a family here in L/A with Lance, advancing her career at CMCC, and maintaining her passion for physical activity by participating in local sports and recreational programs. She plans to continue serving as a volunteer firefighter and aims to complete her Firefighter I & II Certifications. Emily wants to help improve the L/A community's image by fostering support for our local police and fire departments in their efforts to improve safety and quality of life and increasing the presence of local businesses to provide more jobs and combat poverty in Lewiston and Auburn.