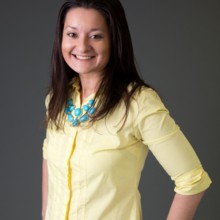 Karly Eretzian
2016 40 Under 40 Honoree
Creative Geniuses
VP of Creative Services
Rinck Advertising
As Vice President of Creative Services for Rinck Advertising in Auburn, Karly is responsible for "all things creative" at the agency. She collaborates with her amazing team to conceptualize methods for effectively communicating brand messages for their clients. Her work requires exploration of the optimal ways to engage with a brand's audience as well as how to best inspire, entice and intrigue them. Karly believes the most important part of her job is figuring out new ways to make people think. She is excited to be part of a business that is "moving, shaking, growing and making things happen."
Prior to Joining Rinck Advertising in 2003, Karly majored in advertising design at the Syracuse University College of Visual and Performing Arts. With access to professors working full-time in the industry as owners, creative directors, and the like, she credits her time at Syracuse with teaching her how to truly think. She stresses the importance of not only learning how to design and create art, but also cultivating a strong focus on strategy in messaging, communication effectiveness and audience perceptions. Karly's vision is to use her work to reach people in Maine and beyond.
Among Karly's favorite aspects of L/A are its strong sense of community and the opportunity living here affords to strike a balance between work, family, health and fun. She is motivated by the respect, loyalty, compassion, commitment, and drive of local citizens and businesses alike. With its close proximity to many of Maine's beautiful mountains and beaches, and to the City of Portland, living in L/A provides Karly with access to all the things she loves. One of her favorite L/A restaurants is Fishbones, where she wrote her vows and did the majority of her wedding planning. Other top spots include local family-friendly restaurants like Pat's Pizza, Gipper's Sports Grill and Mac's Grill, who always welcome her, her husband and their boisterous two-year-old daughter with a smile.
Though most of her free time nowadays is spent running around after her daughter, Stella, Karly loves to go skiing whenever she can. She participated in a weekly ski racing league at Lost Valley this season and hopes to return to the mountains next winter. In the summertime, Karly and her family enjoy camping, canoeing, hiking, and simply hanging out by the water. Local causes she is passionate about include the Maine Cancer Foundation and the Patrick Dempsey Center for Cancer Hope and Healing, Museum L/A, The Public Theatre, Auburn Firefighters Local 797 and the Androscoggin Humane Society. She has served on the boards of directors for various L/A nonprofits and played a role in the creation of Young Professionals of Lewiston Auburn (YPLAA).
In the future, Karly plans to continue living and working here in L/A and hopes to make a greater impact on the community. Her main career goal is to "put L/A on the map" by showing the world that it is a creative place filled with energy and talent.