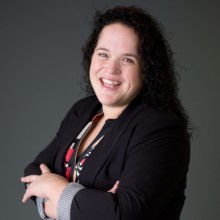 Deanna Etienne
2016 40 Under 40 Honoree
Education
Pre-K Teacher
Auburn School Department
As a Pre-Kindergarten teacher for Walton Elementary School in Auburn, Deanna is dedicated to making a difference in the lives of her students. Learning through play, her classroom is a place for young children to grow academically, socially and emotionally. She originally came to Lewiston in 2007 to teach at Farwell Elementary School and has been living in L/A ever since.
Deanna always wanted to be a teacher. She focused her studies on Early Childhood Education while in college and took a job at a private preschool after graduation. Some of Deanna's favorite aspects of teaching include playing an instrumental role in the growth and development of her students and working with the diverse families in L/A who have helped her improve both as an educator and as an individual. In addition to the students and their families, Deanna feels fortunate to be surrounded by a group of talented, dedicated, and loving colleagues. She is honored to be part of the work all the wonderful teachers of L/A do each day to make a positive difference in the lives of their students.
Living in L/A allows Deanna to be close to all the people and things that she loves. She is never too far away from her family in Scarborough, or the numerous beaches and snowy mountains of Maine. One of her favorite things about the area is that it provides a "big city" atmosphere with a tight-knit community feel. Some of her preferred places to eat in L/A include Heidi's Brooklyn Deli and Jasmine Café. She loves to stay active and spends much of her free time working out at WolfPack Fitness in Auburn. At home, Deanna enjoys quality time playing and laughing with her husband and their son. When the weather allows, she likes to spend time near the ocean or going for long walks on Spring Road in Auburn.
Looking to the future, Deanna envisions herself continuing her career in early childhood education. She plans to use her passion in the classroom to make the most positive impact she can on the L/A community.