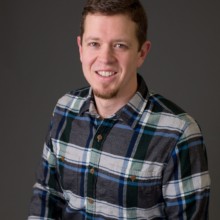 Joel H. Furrow
2016 40 Under 40 Honoree
Local Heroes
Director
The Root Cellar | Lewiston
As Director of The Root Cellar, Joel's job carries with it numerous responsibilities. On a typical day, he may be writing or designing a newsletter, leading a teen group, updating the Cellar's website, working alongside volunteers in the various programs offered to adults, teens and children by the organization, or planning a fundraising event. The Root Cellar boasts programs for local citizens of all ages, from "Project Rooted," a program designed to engage at-risk youth and get them on the right path by equipping them with the life skills for a successful future, to the Friends and Neighbors Network ("FANN"), a collective designed to facilitate and promote L/A neighbors in need providing food for one another. Joel feels honored to be able to work alongside the "small army" of volunteers at The Cellar. He characterizes those he works with as a diverse group of people, all sharing a common goal of engaging, equipping and empowering L/A citizens in need through high quality programs and services. Joel feels humbled by the love, dedication, and faith of those he works with.
Joel's work is motivated primarily by his faith in God. During college, he became interested in learning to live out the teachings of Jesus—"to love our neighbor, love our enemies, care for the needy and welcome the stranger." His pursuit led him to work with refugees in Jordan and Atlanta, before spending nearly five years in Boston working with at-risk youth. When he was offered his current position at The Root Cellar in 2012, Joel saw it as a new and exciting opportunity to learn how to engage, equip and empower others to be better neighbors. The job offer came just before he and his wife, Hilary, welcomed their first daughter, and they both felt that the time was right to "put down some roots" and see what God had planned for them in L/A.
One of Joel's favorite things about L/A is its central location in the State of Maine; he and his family love being close to both the mountains and the coast. When he isn't working, Joel spends as much time as he can with his beautiful wife and their two adorable daughters, Annaleigh and Jane. The family is fond of outdoor activities, spending time at local lakes whenever possible. Joel also enjoys fishing, playing basketball, and watching the Red Sox. For a bite to eat, his favorites include The Italian Bakery, Fielder's Choice Ice Cream, Forage Market, and Boba.
Joel is excited to continue discovering how L/A has grown through the efforts of the staff and volunteers at The Root Cellar. He hopes to see L/A citizens learning to be better neighbors to one another by welcoming differences of culture and diversity as valuable assets to our community.