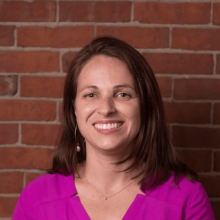 Nicole Mailhot
2018 40 Under 40 Honoree
Emerging Leaders
VP Marketing & Business Development
Dirigo Federal Credit Union
Nicole Mailhot says she does, "A little of everything," in her role as VP of Marketing and Business Development at Dirigo Federal Credit Union, splitting her time between advertising, website updates, product campaigns, and community events and managing branch locations including all branch staff and member experience .
Born and raised in Auburn, she is mom to 40 Under 40 entrepreneur Isaiah Washington. Having a son early rooted her in the community to start her career and education path locally and she says, "I love it and would never want to be anywhere else." Nicole attributes the, "Small town feel with the benefits of a large city," to why she, "Loves the re-birth of the twin cities that is happening now!"
She supports New Beginnings because she believes, "Everyone deserves a second chance and the help to achieve their goals, because at some point in our lives we have all needed help." She also appreciates Museum LA and the preservation of the community's history and the work they are doing to expand for the future.
When she is not outdoors with her family, Nicole can be seen out and about at toddler-friendly community activities like the United Way's Touch-a-Truck, the Balloon Festival, and Fit Fest or at Gritty's and Pat's Pizza.
She hopes to see LA tackle, "Our old reputation." She is optimistic, "That we are overcoming it every day with all of the great new businesses relocating here and existing business reinvesting into our community."