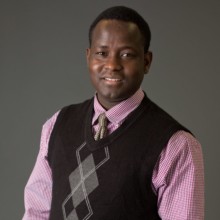 Rilwan Osman
2016 40 Under 40 Honoree
Volunteers
Executive Director
Maine Immigrant & Refugee Services
Maine Immigrant & Refugee Services was built upon a shared vision to educate, support and empower immigrant and refugee youth in the L/A area. The first step that Rilwan, co-founder and executive director of MIRS, and his colleagues took was to establish monthly meetings for local youth to discuss problems they were facing and work together to generate positive solutions. The monthly meetings became so popular that MIRS expanded its services to include soccer programs, academic support, cultural programs and tradition counseling. Today, MIRS not only serves immigrant and refugee youth in L/A, but also offers a myriad of services to their parents. The Citizenship Program, which helps immigrant and refugee parents study for the literacy portion of their naturalization exams, boasts an impressive success rate and has become so popular that people are traveling from other parts of the State to be a part of it. Other services for parents include courses on job searching, parenting and advanced reading, writing and oral skills.
As Executive Director, Rilwan oversees all day-to-day activities of the agency. He helps facilitate English as a Second Language courses, juvenile justice programs, after school programming, mental health services, and more. He started MIRS as a group of volunteers and has seen it quickly grow into an agency that employs over thirty people.
Born in Somalia and raised in a refugee camp, Rilwan had never lived in a big city when he and his family relocated to Atlanta, Georgia. Not finding Atlanta to be a great fit, Rilwan and his family moved to L/A after hearing from other family and friends that it was a small and safe place to live and raise children. His favorite thing about the L/A community is the availability of a support system for those who need it. Some of his favorite places to eat include Dunkin' Donuts and local Somali restaurants. When he isn't working, Rilwan enjoys being with his family and volunteering his time and money to help others when he can. Looking to the future, he plans to work toward more integration, offering increased multicultural activities to connect Maine citizens, old and new.