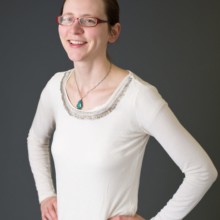 Sara Goodrich, LMT
2016 40 Under 40 Honoree
Health & Wellness
Owner
Renew You! Massage and Yoga
As a self-employed massage therapist and instructor of yoga and meditation, Sara's job is to help people who are sore and stressed and who want to improve upon their physical and emotional wellbeing. She discovered her interest in massage therapy while working in an office that offered massage to its employees as part of a generous health benefit program. Bored and unmotivated in her work, the therapeutic office massages started Sara on the path to her present profession. She would later incorporate yoga and meditation, a decision she says was largely driven by her love for Kundalini Yoga, commonly known as the "Yoga of Awareness."
Sara is fond of the challenges of self-employment, which she finds often test her and keep her on her toes. She has learned a lot over the years and has seen herself grow strong and confident in areas where she was felt weak. Her passion lies in helping people. A self-identified idealist, she believes we all share a responsibility to make the world a better place. For Sara, it all begins with improving your own mind, body and life. Her goal is to employ massage therapy, yoga and meditation to support local individuals in their efforts to heal themselves and the world around them. A strong proponent of integrity, Sara feels fortunate to have the power to run her own business in a fashion that best reflects her own personal values.
Sara moved to L/A when her husband got a job making furniture in the area. She loves that the L/A community boasts a unique combination of an "urban feel" in the downtown area and easy access to natural resources both in the mountains and along the coast. She also finds a wealth of opportunity in L/A for a young person to "make their mark." Sara believes that if you "roll up your sleeves and dig in," you'll see that your work is appreciated and find enormous potential to make a positive impact. With a strong interest in urban development, Sara was part of the group that started Grow L+A, a volunteer organization that has been a driving force behind the redevelopment of Bates Mill No. 5 in Lewiston. She ascribes to a philosophy known as "New Urbanism," which examines the history of a community with downtown areas and neighborhoods that were once prosperous, connected and lively and asks the question, "what were they doing right?"
Outside her career and community work, Sara enjoys gardening, hiking, reading and traveling. Some of her favorite local eateries include Marche, Boba, Thai Dish and Forage Market. Looking to the future, she plans to continue working to fully develop her business so it can flourish. Beyond that, she finds it important to leave a little room for serendipity.