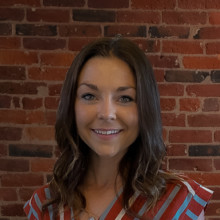 Taylor Belanger
2020 40 Under 40 Honoree
Economic Development
Former Tasting Room Manager and Event Coordinator
Vista of Maine at Ricker Hill Farms
Marketing Director + Optician
Atlee Gleaton Eye Care
Taylor Belanger was destined to be in the media spotlight.
"I began my career right out of high school as I attended college in Boston and Southern California while studying business and marketing and completing internships with Teen Vogue. I quickly learned my love for creative production and events would take me to the future of my career," recalls Taylor. "I would eventually meet the Ricker's – and be introduced to L/A's hidden "gem", The Vista of Maine. Now it has been my greatest challenge and joy to bring that name to everyone's home and family dinner discussion."
Her nominator went on to say, "We are nominating Taylor for this award because of her unwavering dedication to the growth of The Vista of Maine. – a new, local, vineyard and cidery in Greene, owned by Ricker Hill. Taylor has placed successful programming and created a story that all of L/A wants to be a part of. She has brought creativity and a strategic mindset, propelling this new venue by providing the proper management skills and a friendly face."
Originally an Auburn native, after living six years in California she knew the best place to reside was alongside family and a thriving community and that was back in L/A.
"I enjoy the heart of our L/A area. People work hard. They love hard. They play hard. We are all deeply connected, and everyone knows everyone. I think that is when a community truly thrives – when everyone has a place (within it.)