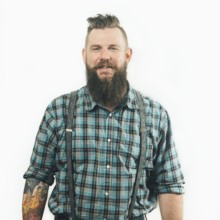 Tom Ardia
2017 40 Under 40 Honoree
Creative Geniuses
Bar Manager
Marche
Tom Ardia's job is to create an experience from behind the bar at Marche.
"I create cocktail menus, bring in great craft beer and wine and make sure my guests have a pleasant experience," said Ardia. "I'm constantly learning how to be a better bartender, and being a part of the United States Bartenders Guild has been a big part of doing a better job with guests and creativity."
"I started at Ground Round in Auburn back in 1995. I would hang out there and one day they asked if wanted a job," said Ardia, reflecting how his career started. "As much as I like being behind the bar, I also like to visit new bars to eat and drink. I'm always interested in what other places are doing.
He's become hooked on the downtown Lewiston setting, having worked at The Vault, Orchid and now Marche. He likes to frequent the likes of Fuel, Orchid, DaVinci's, Fishbones and Rails but can't always make the time.
"It can be hard because I usually work similar hours to all of these places," said Ardia.
What he likes best about the LA scene is the potential that is starting to emerge in the area.
"I feel big things can happen down here with the right ideas and support," adds Ardia. "There is a lot of room in our cities to add different style bars and restaurants and I want to be a part of creating that culture locally."