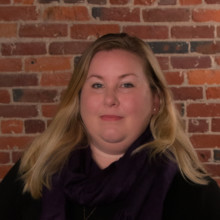 Victoria Stanton, CFRE
2020 40 Under 40 Honoree
Local Government & Civic Leaders
Director of Development & Engagement
Safe Voices
Contributing Writer
LA Metro Magazine
Let's start with knowing Victoria Stanton outside of her career.
"Having a three-year-old is a great motivator for getting out of the house, so my family and I enjoy being outside, exploring places like Pineland Farms and state parks. And at the risk of exposing myself for the total nerd that I am, I've started dabbling in aquarium keeping. I'm currently building out my first saltwater tank and hope to set up a small office tank."
Now back to her career. She's a certified fundraising executive who is making a difference in LA primarily through her work with Safe Voices.
"As the director of development and engagement at Safe Voices, I get to bring people closer to our mission of supporting survivors of domestic abuse and violence across Androscoggin, Oxford and Franklin counties. Everyone has a role to play in ending violence in our communities. I build relationships and assist others in making an impact through philanthropy, volunteerism, and raising awareness."
Victoria likes to say that she didn't choose to live in LA, it really chose her.
"I graduated from college in 2009 during a terrible job market, and the only employer who offered me a job was here, as a community educator at Safe Voices. It has worked out beautifully, with both my husband and I building careers here, buying our first home in Lewiston, and now raising our daughter in this community."
In giving back to the community, she currently serves on the board of trustees at ACADIA Academy, the local charter elementary school.