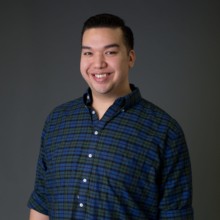 Vincent S. Ratsavong
2016 40 Under 40 Honoree
Creative Geniuses
Director/Choreographer
Community Little Theatre
As artistic director for Community Little Theatre in Auburn, Vincent works closely with other theater leaders to create a "main stage season" with three musicals and two plays, as well as fundraising events and a one-act play festival submission. Once the upcoming season has been established, he plays a supportive role to his fellow directors in their production efforts. He acts as a sounding board, resource, and liaison. Being part of the artistic team involves working with the Director's Apprentice Program, a training opportunity for local citizens who are interested in theater leadership roles. Vincent also directs the Summer Youth Theatre Project and Teen Musical Theater Showcase, serving young artists throughout the State of Maine. Some of the high points of his career have been performing for famous composer, Alan Menken, performing at the Kennedy Center, and winning first place at the Boston NATS Song Festival. He is also proud to be a two-time Irene Ryan nominee and semi-finalist.
Vincent began his artistic journey as a ballet dancer, spending a few years with The Maine State Ballet as well as the Portland Ballet. After graduating from the University of the Arts in Philadelphia as a dance major, he went on to dance with The Philadelphia Ballet. When it came time to launch his career in musical theater, it made sense for him to return to Community Little Theatre and give back to the place that ignited his passion as a child. He loves the sense of community in L/A, and feels humbled watching local citizens from all walks of life work together to create art they can be proud of. Much like our community itself, the success of the Theatre is driven by the investments of each of its members.
A traveler in his free time, Vincent feels that so much of his work is based on studying people and their behaviors. Exploring different places around the world enables him to do just that. Locally, he may be found enjoying a meal at his favorite L/A eateries including Fuel, Fishbones, Sea40 and Heidi's Brooklyn Deli. Beyond his work with the Theatre, Vincent gives back to L/A by volunteering as much of his time as possible with local organizations. He views any time devoted to community outreach and volunteerism as time well spent. Some of the causes he is most passionate about include the Make a Wish Foundation, the Children's Miracle Network and the AIDS Foundation.
Looking to the future, Vincent hopes to be directing a major equity company and ensuring that the local artistic community continues to flourish for future generations.