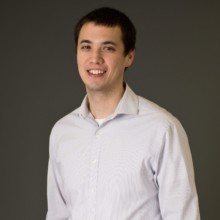 Ben Chin
2016 40 Under 40 Honoree
Emerging Leaders
Political Director
Maine People's Alliance
When Ben came to L/A to attend college at Bates, he planned to complete his studies and move on to a seminary to become a pastor. Plans changed when a construction project known as the "Heritage Initiative" threatened to displace hundreds of families in the L/A area. Ben joined the efforts of The Visible Community to stop the project and quickly discovered his passion for community organizing. As Political Engagement Director for Maine People's Alliance, Ben presently leads a team of community organizers and volunteers to raise Maine's minimum wage and to fully fund public education in our state from Pre-K through Grade 12.
A love of community organizing work was not all Ben discovered while in college. He also learned the joys of living in a "real community" like Lewiston, where neighbors know one another and you can never go too long without running into a familiar face around town. While the world around us is continuously dividing along lines of race, class, religion, and the like, Ben appreciates that L/A is a diverse but tight-knit community where working class families can successfully coexist. Some of his favorite places to grab a bite in L/A include Guthrie's or Gridiron for a quick stop or to wind down from the week, and Mother India, Marche or Fuel for date nights with his wife, Nicola. He spends much of his free time running and biking and is currently training to participate in the Ironman Triathlon later this year. He also takes part in swimming workouts hosted by fellow Bates grad, Vanessa Williamson, whose weekly classes he characterizes as "one of the secret gems of L/A." Most importantly, Ben devotes as much time as possible to his wife and their adorable baby girl, Anjali.
Beyond his work with Maine People's Alliance, Ben gives back to his community by serving on the boards of directors for Trinity Church and the Jubilee Center, as well as running for office in an effort to craft a vision for L/A based on the aspirations of his neighbors. No matter what he is doing for his community, Ben's goal is always the same: "to create a world where everyone has what they need, contributes what they can, and no one gets left out." Through the Jubilee Center, he works to prevent hunger and homelessness and to help recent immigrants integrate into the L/A community. With Maine People's Alliance, he works against the root causes of issues facing local people in need. When the work gets tough, and it often does, Ben finds his faith restored each Sunday at Trinity Church.
Ben plans to continue his life in L/A with his wife and daughter, where he can do the work he believes in for a community that he loves.