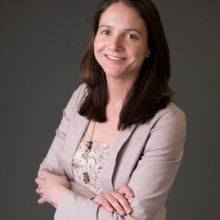 Jennifer Ziebart
2016 40 Under 40 Honoree
Economic Development
Director, Marketing & Communications
Lewiston Auburn Metropolitan Chamber of Commerce
Jenny Ziebart, a familiar and friendly face to many in the L/A community, began her career at the LA Metropolitan Chamber of Commerce as an intern in 2003. She was just half a dozen credits away from earning her degree in Public Administration when she was offered a full-time, paid position with the Chamber. For Jenny, there was no question that she had found the right fit.
Today, as Director of Marketing and Communications, Jenny generates press releases, plans and executes social media strategies, manages advertising and email marketing, and more, all in the interest of promoting the Chamber and connecting its members to the valuable resources and opportunities they need. She also assists local efforts to coordinate job fairs and facilitate scholarships for high school students and adults alike. Jenny attributes much of her success with the Chamber to her coworkers and peers, whom she admires for their motivation and strong work ethic.
Jenny's efforts to improve the L/A community are heavily supported by its citizens, whom she refers to as "wonderful people devoted to making the LA Metro area a great place." Her own devotion to L/A extends beyond office hours, as Jenny and her family patronize the many local restaurants and businesses that are members of the Chamber. When she isn't working, Jenny loves spending time outdoors. Some of her favorite outdoor activities include hiking, swimming, skiing and snowshoeing. As a parent, her primary personal goal is "to raise two well-adjusted future adults." She particularly enjoys volunteering at her daughter's school whenever she can.
Jenny's daughter suffers from Alopecia, an auto-immune disorder that leads to extensive hair loss. Accordingly, Jenny finds herself most passionate about a nonprofit organization known as the Children's Alopecia Project, which she says has been a huge help to her family. With no cure for Alopecia to date, the organization focuses on supporting children and their families with building confidence. For Jenny and her family, the Children's Alopecia Project has been "a lifesaver."
Our community has Jenny to thank for the well-known local institution known as "Young Professionals of the Lewiston Auburn Area," better known as "YPLAA." As its founder and first member, Jenny laid the groundwork for an organization dedicated to supporting L/A's young professionals. Today, YPLAA is responsible for numerous networking events, education opportunities, and activities designed to better connect our young professionals to their community. Jenny's efforts through YPLAA are an invaluable asset to our economic development, particularly at a time when the L/A area is striving to attract and retain young professionals.
Looking to the future, Jenny sees herself continuing her efforts to improve upon the greatness of the L/A area. As many members of our community are aware, local citizens and business owners alike are working to improve upon the perception of Lewiston/Auburn. Jenny believes the first step is to change our negative perceptions from within and show the world outside L/A what a wonderful place it is to live, work and play.