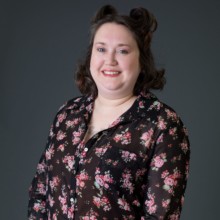 Sheri Genevieve Withers
2016 40 Under 40 Honoree
Economic Development
Owner
Downtown Handmade & Vintage
Sheri and her family returned to L/A after being away for a number of years. She presently resides on Lisbon Street in Lewiston, which is also the newest location of her business, Downtown Homemade & Vintage. Sheri describes her work as "creating concepts for tee shirts for a city that [she] loves." She considers herself lucky to be able to create, sew and draw for her business while also spending time at home with her children. In addition to her design work, Sheri spends her time planning social events around town that allow L/A citizens to practice arts and crafts and display their work in local venues.
On "Shop Local Saturday" in 2012, Sheri and a friend hosted an indie craft fair at Callahan Hall in the Lewiston Public Library. The enthusiasm and positive feedback she received from the event soon motivated her to open Downtown Homemade & Vintage. DH&V started as a place for local artists to sell and promote their work. The following year, Sheri launched her first line of "I Love Lewiston" screen printed tee shirts, with the initial concept designed to support the victims of the Bartlett Street fires. Sheri contributed a portion of her tee shirt sales to the YWCA. Following that project, Sheri began creating numerous new designs for wholesale to local businesses. Presently, DH&V boasts seven different tee shirt lines and is developing a concept for children's shirts. Last fall, Sheri founded "The Hive-Artisan Collective." She describes The Hive as "a safe space [for area artists] to create and promote their art in a positive environment."
Sheri's favorite thing about L/A is its strong sense of community. She is inspired by the citizens of L/A and their investment in the economic and social growth of the area. Being part of a community where the people are passionate about local creations is key to Sheri's success. When she is not at work, Sheri can be found enjoying the perks of living in downtown Lewiston. She and her family and friends often engage in "drink and appetizer hops," traveling from one local restaurant to another to sample all the different types of food and drink. Other times, they will get takeout and head to the tap room at Baxter Brewing Company where Sheri's husband works.
To give back to her community, Sheri participates in the Union of Maine Visual Artists, L/A Chapter. The organization, much like Sheri herself, works to create opportunities for the promotion of local art. She is currently working with members of Lewiston's City Council to establish the first "creative crosswalk," a project which she hopes will ensure public safety and boost our local economy. Sheri hopes her efforts to support the arts in L/A will entice more of our youth to stay in the area when it comes time to start their own careers.