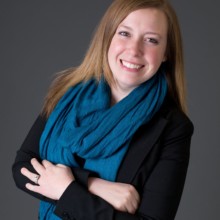 Ashlee H. Vandiver
2016 40 Under 40 Honoree
Health & Wellness
Doctor of Audiology
L/A Hearing Center
As an audiologist for L/A Hearing Center, Ashlee evaluates, diagnoses and treats people with hearing loss and balance disorders. She sees a wide range of people, from newborns to geriatrics, helping patients and their families better understand the nature and impact of hearing loss and providing custom treatment options to suit individual listening needs. For the children she treats, Ashlee collaborates with early intervention providers, educators and other school professionals to ensure access to language in the classroom. She is honored to have the opportunity to witness so many life-changing moments and is passionate about helping her patients regain their hearing independence so they can play a part in important conversations with family, friends and colleagues.
Midway through her undergraduate career, Ashlee decided she wanted to pursue a specialty in the medical field. She was studying biology and enrolled in pre-med when she enrolled in an "Intro to Audiology" course by chance. Ashlee knew audiology was her calling and hasn't looked back since. She often recalls a special moment from the beginning of her professional career when she witnessed a child she'd fit with hearing aids hear her own footsteps for the first time. It is the connection to her patients and their families that drives Ashlee in her work each day.
Ashlee and her family love living in the L/A community because it is close to so many important people and things in their lives. The family visits with nearby relatives, enjoys trips to Maine beaches and mountains, and spends time exploring local cuisine. Some favorite places to grab a bite include Fuel, Fishbones, Orchid and Gritty's.
Ashlee is an ardent supporter of hearing loss education and often joins forces with different local and national agencies to provide educational seminars for those who could benefit from a greater understanding of ear and hearing disorders. She particularly enjoys collaborating with SeniorsPlus in Lewiston, tapping into some of the tremendous educational opportunities for our community's elders. Over the past three years, Ashlee has been heavily involved with Young Professionals of Lewiston Auburn (YPLAA) and presently serves as chair of the organization as well as co-chair of the Y-Not Committee. She feels lucky to be able to work with local young professionals and learning why they have chosen the L/A area as their home. With a family history of heart disease, Ashlee also supports The American Heart Association as a member of the executive leadership team for the annual Central Maine Heart Walk.
Ten years from now, Ashlee plans to be living in the L/A community continuing to do the work she loves. She cannot imagine living or practicing anywhere else!