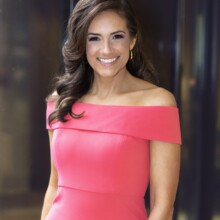 Amanda Shute
2023 Nominee
Best in FINANCIAL SERVICES
Chief Product Owner
TD Bank
Amanda is a compassionate community member who focuses on using her skills and experience as an award-winning Fraud and Financial Crimes expert to improve family digital wellness. From conducting investigations to leading global teams, she recently took a role at TD Bank as the Chief Product Owner of Cyber Fraud Management where she is leading the effort to transform the bank's defenses to protect consumers from identity theft and improve the customer journey.
During her 19 year career in the financial services, Amanda recognized the devastating financial and emotional impact that scams and online crimes have on victims. As a passionate financial crimes fighter and brilliant problem solver, she identified the need to educate consumers on the dangers of the internet where she founded and led a non-profit for 2 years that promoted safer online habits.
Combating online crimes is not her only community endeavor, she has participated in tech related volunteerism with the Boys and Girls club, was a guest speaker for Junior Achievements to encourage students pursuing data and analytics as it related to cyber crimes, spoke with parents about safer internet habits at Educate Maines Tech Night, handed out cyber safety activities books at the Auburn PAL center and filled Little Libraries across Maine with Kids Online safety books that were generously donated by her friends & family.
Tech is not her only passion, she is heavily involved with several non-profits focused on cancer research, detection, prevention and a strong advocate for the Dempsey Center. Her humanitarian efforts led her to compete in the Mrs. Maine America program in April where she represented Auburn. Winning every category, Amanda was crowned as Mrs. Maine America 2023 and received a special recognition for her active role in community service.
Whether it's in her career as a catalyst for online safety or serving the community, Amanda demonstrates leadership, accountability and is worthy to receive recognition for the Finest Under 40 for her impact in the community and as a senior leader in Fraud and Financial Crimes in the financial industry.