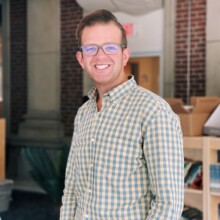 Jake Joy
2023 Nominee
Best in EDUCATION
Language Arts and Multilingual Teacher
Lewiston Middle School
This man goes above and beyond for the 8th grade kids. They respect him and appreciate him. Mr. Joy had my son last year, any child fortunate to be in his class is lucky! 💙
Mr Joy is not just an educator, he was so amazing with all his students. He is the person when a student needed an ear just to listen he was there. He gave his free time to spend with the student if they needed a little extra time. Showed up at his student sports and other activities. He student always knew he was there for them.
Mr. Joy ABSOLUTELY made my sons (&every single other peer) 8th grade year the best that he could.
This class experienced NOTHING for their "big" 6th grade graduation because of Covid— so much was taken for them— he made sure to go big for us last year, it was absolutely a year to always remember.
To smiling and making the kids feel like they meant something every single day. His name says it all, he is literally a JOY. He is an amazing, welcoming human being and everyone needs a Mr. Joy.
I can speak for my entire "mom group" that we will FOREVER cherish the relationships we made with Mr. Joy. Because of him we were able to spoil our "little" kids before they aren't so "little" anymore— Mr. Joy always kept us involved to volunteer and be there, keeping us in the loop and he was always SO enthusiastic and positive!
His eagerness to go above and beyond to help students and form meaningful relationships with his students and those around him.
Jake joy changed middle school for my child and so many others! He made it a safe space, a place to learn and also be accepted! He made them feel apart of a team more like family! Lewiston middle school is a better place because of him! He made middle School some where my child wanted to be every day! I'm thankful for everything he did for my child and so many others! Middle school will be something my child will remember forever because of him Memories to last a lifetime!
He's the most loving, inclusive, kind hearted teacher to his students. He goes above and beyond to make sure students are cared for, educated and loved. He listens, keeps learning fun and puts his entire heart into everything he does. Truly inspiring. He is such an asset to the school and his students. Thank you for all you do Mr. Joy!!
Mr. Joy is an amazing teacher who always puts the students first. He is kind,
compassionate, understanding and works hard every day to make sure his students are thriving.