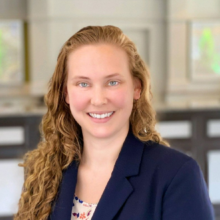 Amy Griswold
2021 Nominee
Emerging Leaders
Nominator's Comments:
"I'd like to take this opportunity to nominate Amy Griswold for her outstanding leadership and her commitment to the success of our region. Most recently, Amy has dedicated her time to participating in the Chamber's Connecting Over series including Hospitality and Small Business. She brings with her a wealth of knowledge as it relates to HR and accounting, and never hesitates to share her expertise with others. Throughout the past two years in particular, Amy has proven to be a powerhouse of knowledge through her financial acumen. It's not uncommon for others from outside the hospitality industry to call on her to gauge their approach to business operations particularly from a financial standpoint.
Amy has spent the better part of a decade working in Auburn and supporting the community through her previous role as Office Manager at the Hilton Garden Inn. During this time she was responsible for the recruitment, onboarding and retention of employees. She encouraged employees to engage deeper in our community, often creating opportunities for volunteering at the Good Shepherd Food Bank, Bowl for Kids Sake or Habitat for Humanity. She identified charitable organizations such as Trinity Jubilee Center and Hope Haven and engaged team members in raising funds. For many years Amy flew under the radar- while she was actively participating in as many events as possible, she was often left behind at the office planning the next escapade. If it weren't for her efforts in these areas over time, I'm not sure where Hilton Garden Inn's community involvement would stand today.
In September of 2019 while working at the Hilton, Amy co-founded and became CFO of Lucro Management, a third-party hotel management company operating out of Auburn. Following an approval process with Hilton Worldwide, her first contract was secured in the signing of the Hilton Garden Inn and as of January 1, 2020 Amy was no longer an employee of the Hilton. She took a step that many others would never consider. Never much of a risk taker, she made a bold move and left the comfort of her salaried position in exchange for an opportunity she created for herself. By using the education she earned at Endicott College's School of Hospitality including the completion of an advance track MBA program, the skills she learned by experience while working at the property level and the observation that she could keep up with the big players in the industry- she built a business that was profitable in its first year of inception.
In January 2020 when Amy set out with full excitement in her new endeavor, no one could have predicted the vast effects Covid would have on the hospitality and tourism sector. In just a matter of months, like everyone, Amy's world turned upside down. She wasn't just responsible for the oversight and performance in the operations at the Hilton Garden Inn, but she was responsible for keeping a startup afloat- a startup that was 100% reliant on the success of one property's revenue- revenue that disappeared overnight! Amy's sheer determination to stay apprised of every opportunity, learning things that namesakes in the industry had never even faced before put both Lucro and the Hilton in a position to succeed. Amy didn't have mentors she could call on for the obstacles she faced. Instead, she became the mentor!
Despite Covid19 and it's impacts, Amy recognized the need to give back. She helped launch a scholarship in collaboration with HospitalityME, a "Bridge the Gap" $1K Scholarship for Women in hospitality, in recognition of the importance of ongoing education and the need for more women to join the industry in leadership roles.
In addition to running these successful businesses, Amy runs a household alongside her husband which includes 3 young kiddos. She has juggled the challenges of childcare, school closures and remote learning in the midst of a fast-paced startup.
In the past Amy has served as co-director of the year-round youth program at Camp Mechuwana where she hosted up to 100 youth for several weekends out of the school year, offering programs such as youth leadership, life skills, self acceptance and community service projects. Today she remains involved as the co-director for the site committee, focused on navigating the youth's reentry in-person gatherings. Additionally, Amy serves on the board of directors including the finance committee and the box office committee for the Monmouth Community Players which offers theater programing for people of all ages. They just recently completed their first show in Auburn at Anniversary Park!
Although these particular volunteer roles don't always exist in the physical parameters that our Chamber directly supports, Amy is intentional about bringing the L/A and surrounding region to her interactions and communications beyond county lines. She has a vision for what Maine's economy can be when we all work together as one and I truly believe Amy is making deep impacts on those she interacts with and is worthy of this recognition!" – J. Donovan, Auburn, Maine