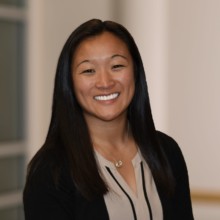 Amy Jose
2018 Nominee
Emerging Leaders
Marketing & PR Operations Partner
Spectrum Healthcare Partners
Nominator's Comments:
"I met Amy when she was just months out of college. She demonstrates maturity and leadership well beyond her years. Amy recognizes the importance of working incredibly hard, taking accountability and giving back to her community.
Amy is typically the first one in and the last one out of the office, she shatters any millennial sterotype I've ever read. Amy is adept at working with senior leaders and executives, including counseling them in regard to communications and accompanying them on media interviews. Amy is regarded by her peers as a steady leader. She mentors team members, often much more experienced than she. She exercises incredible judgment and ALWAYS acts with integrity.
While working 60 hours a week Amy is attending Masters Classes and hopes to earn her Masters in analytics soon. She aspires to be a leader in healthcare marketing and communications.
In her spare time, Amy volunteers as a Wish Granter with Make-a-Wish Maine, she'll grant her first wish this month. She also has volunteered with Maine Cancer Foundation, American Heart Association and K9's on the Frontline."