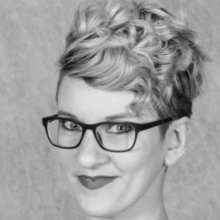 Rebecca Tinkham
2021 Nominee
Creative Geniuses
Development & Engagement Coordinator
Safe Voices
Volunteer Board Member, Director, & Choreographer
Community Little Theatre
Nominator's Comments:
"Occasionally a volunteer comes along that completely changes how your organization does things. Becca Tinkham is that person for Community Little Theatre!
Becca brings a fun and youthful vibe to her work, and people enjoy working with her! She covers an incredible gamut – from acting to props to choreography, and from scenery painting to directing – Becca is one of those all-around great volunteers we wish we had more of!
As much as Becca has contributed "onstage," it is backstage where she has really made an impact. Becca has displayed great leadership skills as a member of our Board of Directors. She has breathed new life and energy into our Development team, helping us to move forward and to institute our first 5K Fun Run. As a trained graphic designer, she has also standardized our Marketing, helping us to understand the importance of consistent branding – and then ensuring that we utilize it in all things moving forward.
Becca is one of those people who makes you realize that a single person can indeed make a difference." – J. McClure-Groover, Lewiston, Maine