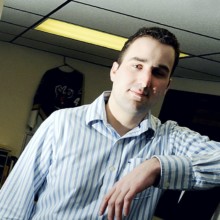 Benjamin Gray
2018 Nominee
Building LA
Owner/GM
Twin City Thunder & Maine Moose Hockey
Owner/President
Merit Pools & Spas
Nominator's Comments:
"Ben, holds a full-time job as a commercial loan officer while simultaneously building multiple businesses. Recently, bringing the first USPHL Hockey Team to Maine, Twin City Thunder-to play out of Norway Savings Bank Arena. The Twin City Thunder are the first non-youth tenant to call the NSBA home, and will play an integral role in bringing new visitors/tourists to LAMaine.
In his time as owner of the Maine Moose, Ben has mentored and coached hundreds of youth hockey players, and has coached teams to four National Titles!
Ben is a graduate of St. Dominic Academy, where he played goalie before going on to play high-level competitive hockey.
Ben is committed to growing youth hockey and providing a cost-effective way for kids to develop without having to leave the state. He's also dedicated to growing the local economy and profile by bringing teams and fans to the LA area that wouldn't have come otherwise.
Ben also volunteers for the following organizations:
Big Brothers Big Sisters
Meaha, Vice President and Travel Director"