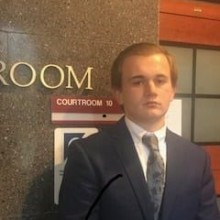 Hunter Steele
2018 Nominee
Building LA
Student
Lewiston High School
Nominator's Comments:
""Hunter Steele is a student at Lewiston High School who displays leadership, passion and commitment for people and our community. He has been involved in school, in the community and with building the image of our community to the outside world.
Serving as the vice-chairperson for the Lewiston Youth Advisory Council, a group that works with municipal staff, state/local officials, and members of the community on various initiatives, he has been working on projects to engage residents to know about their community and reaching out to students about what it positive for the City of Lewiston. Currently they are working on a project to survey students about what they feel is positive about Lewiston and what would keep them in the community after graduation.
In addition, he serves as Vice-President of his junior class and has been active with the monthly Mugs and Kisses Award which recognizes a teacher for their service and commitment. He is also involved with a program through Bates College that brings students from area high schools together to discuss and look at contemporary issues.
As a member the LHS mock trail team, he has worked with various community leaders and notes that ""it is important to be involved."" Stepping up to what he believes in, he has presented before the school board with several of his peers about student concerns and last year traveled to Washington DC to meet and speak with Maine's Senators and Representatives.
For many our involvement in the community is something that we take upon ourselves in addition to our other responsibilities. As a student this is no different, Hunter is a member of the National Honor Society, a student varsity athlete, works part time after school and volunteers as a junior counselor as a mentor with younger students for the Fellowship of Christian Athletes in lacrosse and hockey."