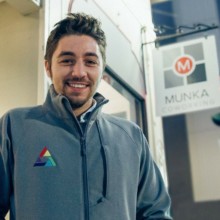 Colby Michaud
2018 Nominee
Entrepreneurs
President
Praxis Motion Pictures formerly Praxis Production Studios
Nominator's Comments:
"Colby is an inventive, creative, ambitious young man. He looks beyond today. He thinks and sees outside the box. He works hard and always puts forth his best effort. As a young business owner on his own, he works diligently to keep his business afloat. He will go back and rework a piece of video until he believes it is as good as it can possibly be. Even if it means working many extra hours. As he did on his Make-a -Wish videos. He has tremendous work ethic and will do last minute projects with a very quick turn around without batting an eye. For instance, Colby recently did a video for Proctor and Gamble with a turn around of 24 hours. The video was professional with the highest quality and was lauded by many. He always puts others first. Colby also does wedding videos and always captures the love that is shared by the bride and groom. Colby puts so much care and thought into his wedding videos that the emotions felt by the couple are almost tangible for anyone viewing the videos. The videos are always very moving and very much appreciated. On a personal note, and knowing him his entire life, I can honestly say that he is also a very caring, kind, thoughtful, and compassionate person who does his work with the forethought that what he does is also for the greater good and will only be a positive for others.
Colby put together a team of people from the Lewiston-Auburn area to write, film and debut a full-length movie in our own backyard. He also created the music for it, and filmed much of it himself.
This individual has done something incredible for Lewiston/Auburn by producing a Maine made film entitled The Damned One; with Maine actors, and filming it locally. I believe it is the start of much more to come from his creativity here in Lewiston/Auburn."