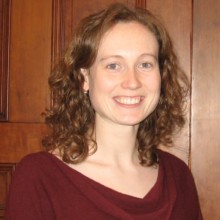 Erin Guay
2017 Nominee
Health & Wellness
Executive Director
Healthy Androscoggin
Nominator's Comments:
"Erin began her work in public health at the Maine CDC's Environmental and Occupational Health Program as a Field Research Scientist, coordinating an arsenic and bathing study in cooperation with the US CDC. She then enrolled in a Master's of Public Health Program at the University of Michigan and graduated from the Department of Health Behavior and Health Education in April, 2007. She spent the summer of 2006 as a Healthy Androscoggin intern. Following graduation she returned to Maine and Healthy Androscoggin as the Physical Activity, Nutrition and Tobacco Manager, and later managed US CDC-funded Racial and Ethnic Approaches to Community Health (REACH) project. Erin now serves as the coalition's Executive Director. Through her leadership, in 2016, Healthy Androscoggin educated 1,678 community members on childhood lead poisoning prevention through trainings, workshops, classes, and events. In April 2016, the organization moved 1,045 pounds of unwanted and expired medicines from homes in Androscoggin County, significantly reducing a source of drugs for abuse. Since 2010, more than 7 tons have been collected by Healthy Androscoggin and our partners. Due to this work, Androscoggin County has seen a 45.7% decrease in high school students who have taken a prescription drug without a doctor's order within the past 30 days from 2009-2015."
"Erin has been active in the local public health community for over 10 years.  Her current work spans advocating for lead poisoning prevention education, nutrition education, physical activity for children, smoking cessation for adults, and access to healthcare for immigrants and refugees.  Erin began her work in public health at the Maine CDC's Environmental and Occupational Health Program as a Field Research Scientist, coordinating an arsenic and bathing study in cooperation with the US CDC. She then enrolled in a Master's of Public Health Program at the University of Michigan and graduated from the Department of Health Behavior and Health Education in April, 2007. She spent the summer of 2006 as a Healthy Androscoggin intern. Following graduation she returned to Maine and Healthy Androscoggin as the Physical Activity, Nutrition and Tobacco Manager, and later managed US CDC-funded Racial and Ethnic Approaches to Community Health (REACH) project. Erin now serves as the coalition's Executive Director.
Those who support the public health of individuals and communities in the state of Maine have found in Erin Guay a tireless advocate, effective organizer, coalition builder extraordinaire, and thoughtful partner.  She supports her staff and fellow public health workers with wit, grace and good humor even in the face of daunting odds. She has a deep abiding love of this community and dedicates herself to ensuring that each individual can lead a fulfilling, healthy life."
"Erin E. Guay is the consummate public health professional. She has worked to advance the health of the greater Lewiston community for the last ten years. She began her career in 2007 at Healthy Androscoggin and has served in a variety of leadership roles since that time. She first worked as a Health Promotion Manager supervising a staff of six to prioritize community health needs and provide worksite wellness programs on tobacco cessation, physical activity and nutrition. She served as a Councilor for the "Good Food Council" of Lewiston Auburn striving to improve access to food. She coordinated the "Get Fit and Win" physical activity promotion program that served over 650 community members in 2012.
Erin is an active member of the American Public Health Association, Maine Public Health Association, Maine Network of Healthy Communities, Green and Healthy Homes Initiative Learning Network, Healthy Neighborhoods Planning Council, Maine Health Equity Council and the Bicycle Coalition of Maine. Erin Guay is a talented, dedicated leader who should be recognized for a 2017 Uplift LA's 40 under 40 award. She is a worthy nominee."