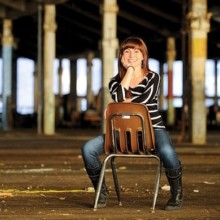 Gabrielle Russell
2017 Nominee
Economic Development
Architect
Platz Associates
Nominator's Comments:
"The fate of Bates Mill No. 5 had been sealed; it was going to be demolished. Enter Gabrielle Russell and her grassroots group Grow L+A. In a 2012 TedXDirigo talk, ""Envisioning the Future of a Mill City,"" Gabrielle painted a picture of innovation and possibility for a historic mill on the chopping block–a picture so compelling that it continues to fuel imagination and action. In a last ditch effort in 2013, Gabrielle and Grow L+A convinced the Lewiston City Council to grant the mill a reprieve and to allow the group six months to create a redevelopment plan for the dilapidated building.
In those six months, Russell worked with over 40 Bates College students to figure out the details of what it would take to operate a server farm out of the mill. She purchased designer Albert Kahn's original drawings of Mill No. 5 and arranged to have them exhibited at Kimball Street Studios on the 100th anniversary of the mill's groundbreaking. She wrote and was awarded a grant from the Sewall Foundation to conduct a feasibility study to determine whether it might be possible to locate a food co-op at the mill.
Since then, Auburn architect and developer Tom Platz has taken over and is working with the City and prospective tenants to get the old mill up-and-running in ways that no one thought possible. Platz cites the groundwork done by Russell and her group as the reason for his interest and enthusiasm. In fact, Russell's work was so impressive that Platz has since hired her as a full-time architect in his firm, Platz Associates.
But Gabrielle's commitment to the L-A community doesn't stop there. Through her involvement with Grow L+A, she has embedded herself in the fabric of Lewiston-Auburn through several other projects, including the Downtown Auburn Transportation Center, the River Task Force, and Friends of Pettengill, which received approval from the Lewiston City Council to build a park on the site of the old Pettengill Elementary School. She currently serves on the Auburn Lewiston YMCA Board of Directors and in the past has served on Lewiston's Historic Preservation Review Board, Lewiston's Zoning Board of Appeals, and the board of LA Arts.
Gabrielle Russell has been described by many as a young visionary. Her passion about historic preservation in the Lewiston-Auburn community is palpable and her commitment to the economic and community development of the area is extraordinary. Gabrielle is a force for progressive change and inspires hope and positivity in all that she does."