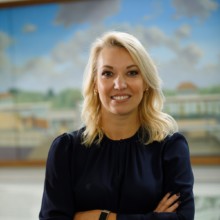 Heather Printup
2021 Nominee
Emerging Leaders
Community Relations Manager
Poland Spring Water Company
Nominator's Comments:
"I met Heather (Sirois) Printup when she was in college, it was evident from the beginning she would be a star. 20 years ago, Heather was hired to work at the Poland Spring Bottling Museum, and she learned everything possible about its history. She gave tours and greeted hotel guests, tourist, foreign and corporate executives and always with a smile. Over the years, I have seen her work in different roles for Poland Spring Water. She became manager of the museum, then spent 6 years as the brands Education and Outreach manager and now spends much of her concentration in Community and Government relations, lobbying when necessary in Augusta for Poland Spring.
In 2007, she developed the Brookie Buddies environmental education program where 5th grade students from Poland Spring host communities around the state participate in a hands on ecology experience. That program has served over 2,000 Maine students, fostering the state's next generation of environmental stewards.
In addition to environmental education initiatives, Heather leads Poland Spring's giving back programs- Their Good Neighbor Grant Program, providing grants to community organizations, causes and events across the state, the Poland Spring Good Science Scholarship program which provides scholarships to students pursuing higher education in a STEM field and the water donation program, giving free water to deserving charities, local causes and public safety departments. Heather is also a board member of the Maine State Chamber, an executive board member for the Poland Spring Preservation Society, a member of the Maine Bicentennial Parade Committee, Co-chair of the Annual Fire and Slice Charity Golf Tournament to benefit Poland Fire Rescue Department, Co-chair of Poland Heritage Day and for several years she held a position on the planning committee for the Androscoggin Home Care and Hospice House Autumn Night Out event." – C. Robbins, Poland Spring, Maine