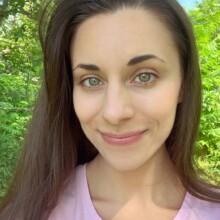 Jackie Howard
2023 Nominee
Best in HEALTHCARE + FIRST RESPONDERS
Certified Life Coach
Waystone Life Coaching
Certified Life Coach
DaySpring Integrative Wellness
Jackie is one of the most compassionate and hardworking people that I know, and she sees each person's worth. She wants everyone to experience excellent health and happiness regardless of their background. Although she is self-employed, she also does a lot of lifestyle work at a local clinic where she is mentored and supervised by a physician to help clients and patients make lifestyle changes.
Jackie is a lifestyle coach and she takes a holistic approach to healing by promoting a healthy harmony between the physical, emotional, mental, and spiritual elements. She helps others to set and reach goals in all of those areas, improve habits, and learn balance and persistence. She also offers general emotional support, tools for stress and sadness, relationship support, and so on. Jackie has helped to support people in reversing or managing diabetes and other chronic diseases, has taught others how to cultivate and maximize joy and minimize stress, has supported diet and exercise changes, has taught the Bible and incorporated prayer/promises for those who have wanted help with spiritual health, has given relationship advice and guidance, and has helped others to experience freedom from unhealthy habits.
In an effort to meet the great need for mental health support that especially arose during the pandemic, Jackie earned certifications as a life coach, BHP, and MHRT/c. While helping clients, she also is going to school full-time to finish her BS in Psychology and soon her MA in clinical mental health counseling. Jackie has been a keynote speaker at a campground for a large health training intensive, and she has given talks at other venues and churches. Some of the intensives and talks that she has offered (and continues to offer) to the community have included healthy communication, healthy boundaries, relief from stress and sadness, the intersection between psychology and theology, and more. She volunteers some of her time to facilitate Christian life-recovery groups, teach plant-based cooking classes, and mentor young women and couples.
She has a huge heart for others, and people often say how they feel she can make a space comfortable, vulnerable, fun, and helpful.