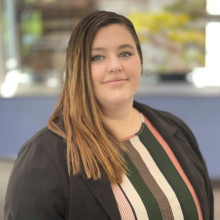 Jacqueline Byron
2022 Nominee
Best in HOSPITALITY
Assistant Food & Beverage Manager
Hilton Garden Inn Auburn Riverwatch
Jacqueline continues to lead by example each and every day in her role as Assistant Food & Beverage Manager for the Hilton Garden Inn. Just barely out of school, Jacqueline began working for the hotel in 2014 as a prep cook/dishwasher. With culinary training under her belt, it didn't take long for her to make her way into the kitchen. She spent several years as the Hotel's line cook, preparing breakfast and lunch while supporting the Executive Chef in ordering, inventory, and cost controls. Jacqueline found her footing as a leader in this male-dominated space, quickly earning the respect of her counterparts as she regularly stepped to the front of the house to help cover server shifts when needed.
Jacqueline's adaptability and interest in the industry led her to seek out intern opportunities in the sales and marketing department too! Her desire to understand the customer's experience in a holistic sense continues to motivate her to this day. It didn't take long before she was asked to consider a brand new position in the hotel, one that she was asked to form from a self-taught perspective and lead the food and beverage team. Despite Jacqueline's heavy presence in the Hotel over time and in numerous capacities, managing people has been a new skill she's had to learn quickly.
In the world of staffing shortages that so many in our industry continue to face, it has been amazing to watch Jacqueline's unique approach to building and managing teams. She truly cares for each and every individual and understands that hospitality must start from within. In her short time in this role, she has managed to build a full team who are driving results far beyond expectations. She shows up each day with a smile and a can-do attitude that is contagious and spreads throughout the property.
Jacqueline is an employer's dream and is one who is meant for this industry! She has what we call the unteachables and yet finds ways to identify and share these skills with those just coming into the industry, yet she's barely crested the prime of her own career. We're so excited to nominate Jacqueline for Best in Hospitality.
-J. Donovan