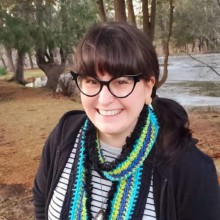 Jessica Gisele Yergin
2021 Nominee
Creative Geniuses
Anti-Money Laundering Representative
TD Bank
Podcast Host & Content Creator
The Misery Machine LLC
Nominator's Comments:
"Jessica Yergin is a lifelong member of Lewiston/Auburn community and is now giving back as host of her own true crime podcast, The Misery Machine.
She proudly represents Lewiston/Auburn as she delves into lesser known missing persons and homicides that do not get the media attention they deserve, including in her home state of Maine. Starting in 2019, her podcast has since gotten tens of thousands of downloads, and almost a million views on YouTube, shining a light on cases that so badly need attention and more resources, including missing persons cases and cold cases involving poor people from rural communities, as well as BIPOC and LGBTQ+ folks. Jessica has brought attention and called for more action and resources devoted to our own cold cases here in Maine such as the Kimberly Moreau and Ludger Belanger cases, and her platform has given cases from our area international attention.
Jessica understands the problems of the true crime genre, and is fighting to change these problems by focusing episodes on humanizing the victims and their families, fully understanding and illustrating the impact on their lives and their communities, and not as a mere form of entertainment.
She extends this passion for true crime in her day job as an Anti-Money Laundering representative at TD Bank, where the cases she reviews helps stem the flow of criminal proceeds that help fund drug and human trafficking on an international level.
As the former volunteer coordinator for the Androscoggin Fallen Angels Roller Derby League, Jessica worked with many different businesses and agencies in the Lewiston/Auburn community. Examples include providing security at Pride L/A, providing volunteers Lewiston Recreation Department events, as well as raising awareness for the arts and art events in Downtown Lewiston.
Jessica comes from a working class family of tradesmen, mill workers, and shipbuilders. She has taken this upbringing and applied it tirelessly in her lifelong careers in customer service. As a former manager at Affiliated Computer Services, she was beloved by her employees, and is well known for having a people-first outlook on life. I am overjoyed to see her go the extra step to now give back to the local community, and to the world in her new pursuits in recent years, and believe she is fully deserving of nomination." – Anonymous, Lewiston, Maine