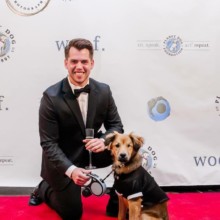 Johnny Mehler
2018 Nominee
Creative Geniuses
Marketing Specialist
Spectrum Healthcare Partners
Nominator's Comments:
"Johnny is an incredibly talented, creative, kind and generous. All qualities that make him exceptional at everything he does. He's an exceptional member of a team and is also incredibly self-directed and driven.
Johnny works in Marketing and PR at Spectrum Healthcare Partners, he's produced some of the most amazing video content I've ever seen. He has a unique ability to tell stories with heart and compassion, and often humor. Frankly, he's brilliant.
He also owns his own business, Mehler Productions, he shoots weddings and they're incredible. He's destined for BIG things. He moonlights with MBR, shooting video of high school athletic events, where again his ability to get incredibly artful shots and to capture the heart of the story are evident and have helped grow the presence of MBR in the community.
In his spare time, Johnny is a volunteer board member for the Maine Sports Commission, and spends time with his puppy, Walker, whom he adopted, the lone survivor of a litter found abandoned."