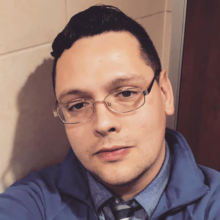 Joshua Toner
2020 Nominee
Local Heroes
Work Support DSP/Employment Specialist
Work Opportunities Unlimited
Nominator's Comments:
"Joshua Toner is one of the most hard-working, dedicated, and inspiring people I know. He is committed to making a difference in the lives of his clients and his community. His desire is to create a higher quality of life for the clients he works with so that they can become empowered to know that they are valuable members of society. His passion and his determination to grow our workforce is a huge asset and promotes economic development.
Josh provides excellent worksite consultation for over 20 Supported Employment individuals per year, to include some of our most challenging clients. He has helped them to not only maintain competitive employment; many have been given increased work hours, responsibilities, and pay due to his excellent support. Josh is a very respected and appreciated team player who is well liked by all his clients and the employers he works with. Josh helps to create success in the workplace for his clients and his team every day!
In July of last year, Work Opportunities Unlimited presented him with the annual Retained Placement Award. He received the award for Excellence in Supported Employment and the important role he plays in assisting people with disabilities with job retention.
The award was created in 2015 to recognize a Career Resource Specialist who has effectively helped a client retain his or her job after facing on-site barriers. Josh was also chosen to receive the award in 2015 from a group of very deserving companywide nominations.
In November of last year, Josh was featured on WMTW news as a Community Champion for his passion for helping individuals with disabilities find and keep meaningful jobs. He was honored for helping individuals retain their jobs. While honored, Josh stated that the real reward was watching his clients at work, achieving, benefiting, having them being hired and making them feel like a productive member of society.
It is with great pleasure that I nominate Joshua Toner for this award!" – E. St. Pierre, Lewiston, Maine