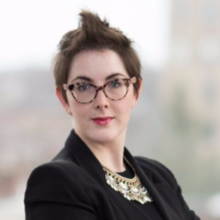 Jamie Szal
2020 Nominee
Volunteers
Attorney
Brann & Isaacson
Nominator's Comments:
"Jamie is a brilliant tax litigation attorney at Brann & Issacson. The State & Local Tax practice at B&I is nationally known, and Jamie has been personally involved in one of the cases Brann & Issacson has argued at the United States Supreme Court.
In addition to working Big Law hours at a small firm in Lewiston, Jamie serves on the board of Community Dental, and is currently Vice President of the Trinity College Alumni Association. She also sings in the Choir at the Episcopal Church of St. Mary, in Falmouth.
Finally, Jamie is a devoted mother of a precocious 2-year-old and a wonderful spouse. I am very pleased to nominate her for this award." – Anonymous