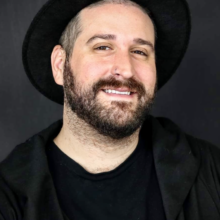 Justin Morin
2023 Nominee
Best in ARTS, PERFORMING ARTS + CULTURE
Elementary Program Director
Tree Street Youth
Board Member/Actor
Community Little Theatre
It truly is amazing the impact one person can have on a community! Although a fairly recent New York City transplant, Justin Morin has made a home for himself at Lewiston Auburn's Community Little Theatre. Having studied musical theater at University of New Hampshire and pursued acting professionally in NYC, Justin has brought both a wealth of knowledge and a much needed "can-do" attitude, breathing new life, energy and inspiration to CLT.
As soon as he arrived here in LA, he hit the ground running! He can often be found entertaining people both on stage and off. He has helped in so many aspects of theater production, including building and decorating sets, building props, and also climbing ladders to hang masking curtains and lights. He has earned the trust and respect of our community – and it was no surprise that he was even elected to our Board of Directors, where he works to ensure the continuing health of our non-profit community performing arts center.
Beyond his many accomplishments, Justin is a wonderful friend and mentor. He always has a positive attitude and strives to find workable solutions for every situation – and he doesn't stint at doing the dirty work. A few weeks ago, Justin could be found in the CLT basement in galoshes and holding a bucket, valiantly attempting to bail water out of our greenroom, props storage space, and extra lumber storage rooms that became severely flooded due to heavy rains.
Please know that Justin is NOT a one trick pony. In addition to CLT, Justin works with young people as the WILLOW Program Anchor at Tree Street Youth in Lewiston, where you can see his pride in seeing these little learners flourish. In short, Justin Morin is a true asset to LACLT – and the greater LA community as well!