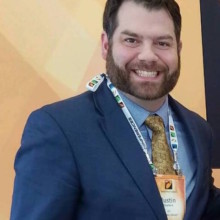 Justin Starbird
2018 Nominee
Local Heroes
CEO
The Aebli Group
Nominator's Comments:
""Justin Starbird has been successfully running The Aebli Group since 2014. His marketing company is located in Mechanic Falls. Justin and his team provide services to customers throughout the U.S. and overseas.
When Justin isn't working with clients or spending time with his family, you will find him on a basketball court, softball or soccer field. He is the Board Chair of the Mechanic Falls Rec Department. He works to see that all children in the community get the opportunity to partake in recreational sports. Not only does he serve as the Board Chair, he also coaches two basketball teams, two soccer teams, a softball team, a tee-ball team and he referees games in the evenings.
Finding volunteers to coach, coordinating tournaments, maintaining facilities and keeping both the players, the families happy is not an easy task. Justin does it with everything he has. Justin has stepped up to the plate as a lead volunteer in the Mechanic Falls Community."