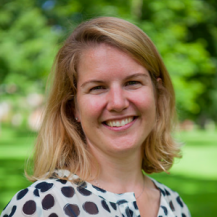 Leigh Weisenburger Albert
2021 Nominee
Education
Vice President for Enrollment & Dean of Admission and Financial Aid
Bates College
Nominator's Comments:
"As Vice President for Enrollment and Dean of Admission & Financial Aid at Bates, Leigh is one of the college's most prominent ambassadors. Leigh and her talented team welcome thousands of visitors to Lewiston/Auburn each year, many of which apply for admission to Bates and become members of the local community during their college experience and beyond. Under her leadership as Dean since 2012, applications to Bates have surged to historic levels, attracting students from across the U.S. and around the world.
Leigh approaches her work with equity at the center and an abiding commitment to access, affordability, and student success. A frequent speaker and panelist, Leigh is a nationally-recognized voice in the field of college admissions.
Beyond the office, Leigh is also deeply involved in the community, serving as treasurer of the board of directors of the YWCA of Central Maine and on the NICU Family Advisory Council at the Barbara Bush Children's Hospital at Maine Medical Center. She is also active within the Corporate Leaders Network of the Olympia Snowe Women's Leadership Institute.
A proud Lewiston resident, Leigh is certainly one of our finest under 40." – S. Findlen, Lewiston, Maine