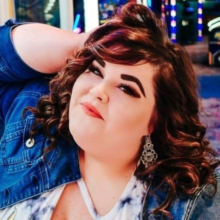 Sasha Vurnakes
2020 Nominee
Entrepreneurs
Owner
Sasha Lee's Romance Boutique
Nominator's Comments:
"I am nominating Sasha because of the work she does within the community, to not only empower men and women but to inspire as well. Sasha is well know for her past fashion shows. The shows that screamed "EveryBodyisBeautiful". She has expanded her creativity through boudoir shoots and other opportunities that raise awareness throughout the community. She has raised awareness by raising money for Safe Voices and Equality Maine through photoshoots. She is also working on choreographing a burlesque routine for a charity event with proceeds going to the nonprofit organization, Pittie Pose. It's one thing to fit a person with a great outfit, but Sasha takes it to another level by helping individuals love themselves, love others and embrace the uniqueness that makes life beautiful. Her creativity lifts this community to love and support each other no matter our differences." – M. Hafner, Livermore, Maine

"I nominate Sasha in this category because she chooses to locate her business in Lewiston.
She embodies the spirit of what an entrepreneur stands for…to provide products and services to an existing or even better, newly created market. An entrepreneur takes risks…romance as a business? C'mon, it's risky because it's risqué, right?
Does that stop Sasha? Nope. She has taken her brick and mortar endeavor and made it the base camp for incredible body positive events including the now legendary fashion shows that helped many locals bring out their better selves. And the ideas haven't stopped, as she has also branched out with photography shops that continue to empower individuals as well as projects that raise funds for a variety of charitable organizations.
So to wrap it up, an entrepreneur takes risks, understands successes and failures and learns from them. They also make people around them better by becoming coaches and mentors.
Sasha does that." – I. Poeraatmadja, Lewiston, Maine