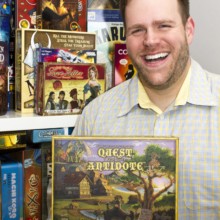 Tom Deschenes
2018 Nominee
Creative Geniuses
Director of Strategic Partnerships - Northeast Region
Purdue University Global formerly Kaplan University
Nominator's Comments:
"Tom Deschenes is a Lewiston Native and Harvard University graduate. He had been working on his new board game: ""Quest for the Antidote"" (Illustrated by Scott Sherman) for the last 6 years before Upper Deck purchased the game in 2017. It was an instant hit – earning him an interview with Maine Public Radio, and features in DownEast Magazine, the Sun Journal, the Portland Press Herald, Cool Stuff Inc, and Board Game Geek. Quest for the Antidote was also an ""Amazon Choice"" product and if that wasn't enough, this last summer he was even an honorary celebrity guest on a board game themed cruise!
Anyone who knows Tom, knows that he is a unique mix of intelligent, loyal, humble, and compassionate. The only thing that means more to him than his love of underground board games, is his family and friends. So, it makes sense that Quest for the Antidote (although one of survival) is a cross-generational, engaging game that you can play for hours… whether you're with your friends, or your grandma.
Aside from being generally helpful and kind to everyone he meets, Tom has also been a quiet but enthusiastic community helper in Maine, and the Lewiston/Auburn area. He has spent time volunteering for organizations such as Camp Sunshine and STRIVE, as well as serving on local workforce development boards through the Lewiston Career Center. When anyone needs a helping hand or a creative solution, they can usually count on Tom to be there thinking outside of the box!"