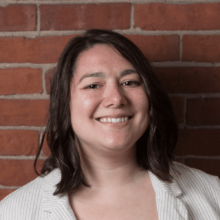 Alicia Rea
2018 40 Under 40 Honoree
Local Government & Civic Leaders
Associate Director of Special Projects for Annual Giving
Bates College
Alicia Rea's job as Associate Director of Special Projects for Annual Giving at Bates College brought her to the Lewiston Auburn area, which she describes as a welcoming community that feels like home. She notes, "I love the city life aspect of living downtown and the opportunity to participate in the community's growth." Alicia can be found enjoying downtown dining at Mother India and Forage Market, and attends many community events and gatherings. Her other interests include hiking and baking.
Her professional life at Bate organizing events and fundraising requires developing relationships with volunteers, performing data analysis, and executing a thoughtful strategy to encourage young alumni to remain engaged with the College. Personally, her own engagement with the LA community can be seen in many places. As Lewiston's Ward 3 City Councilor, she perceives the biggest challenge to be the reputation of Lewiston Auburn by those outside of the area, stating, "Our community has gone to great lengths to improve the quality of life here, yet folks from out of town hear about Lewiston from years past." Alicia encourages championing the city to help with this perception.
As a community champion, Alicia is also on the Board of Directors for the Lewiston Education Fund, a member of the campaign cabinet for Sophia's House, City Council liaison to the Lewiston School Committee, and member of the Lake Auburn Water Protection Commission.
In 10 years Alicia envisions owning a home in Lewiston and still contributing as a community member with the municipal government.