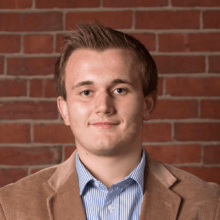 Hunter Steele
2018 40 Under 40 Honoree
Building LA
Student
Lewiston High School
Lewiston High School student Hunter Steele enjoys challenging himself and getting to know others. He likes trying to make things better and creating more opportunities for students to be involved in the school and the community.
Born in Lewiston, Hunter values the strong sense of community here, he says, "Despite our differences." The challenges he sees the area facing are a lack of skilled jobs locally and the community's reputation. Hunter notes, "We need to work on a campaign that will show how great the community is and make people want to come and live here. More importantly we need to target young professionals and families."
As a full-time high school student, Hunter focuses his time on his classes but also likes to read and play sports and encourages younger students to play lacrosse. He values the Lewiston Youth Advisory Council, which he says, "Helps to promote the city of Lewiston."
Hunter's ten-year goal is to finish graduate school. Meanwhile, out and about town he can be found at Gippers, Boba, Jade Garden and Tripps.